If you haven't experienced the benefits of a tankless water heater, you're missing out on one of the most practical and energy efficient appliances available to homeowners. These devices can help you continue to conduct basic household chores while conserving water and saving money. They can be a valuable asset in your home.
Good thing the technicians at S and J Plumbing offer tankless water heater installation and tankless water heater repair services to homes in the Arlington Heights, IL area. We're able to provide an upgrade to your traditional unit while keeping it in prime condition for years to come.
We service the following brands:
Rinnai tankless water heater
Bosch tankless water heater
Takagi tankless water heater
Noritz tankless water heater
Navien tankless water heater
And more!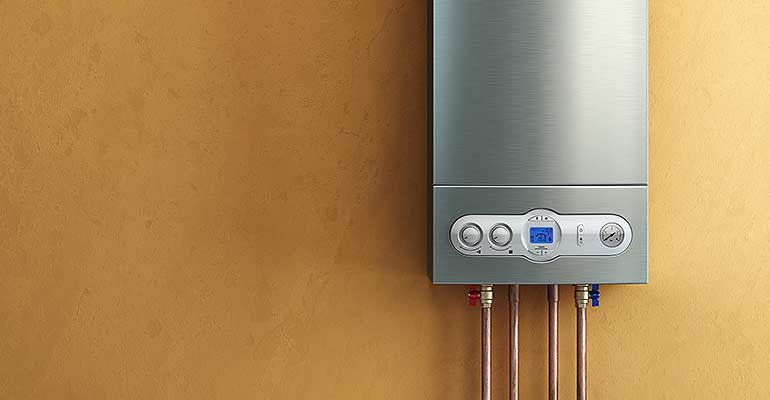 Learn how you can save cash on your next service call by taking a look at our coupons page.
Benefits of Tankless Water Heater Installation
Tankless water heaters can provide big-time savings when it comes to water and energy consumption. Instead of using a large water tank, the appliance connects directly with a home's plumbing, which provides a variety of benefits. Here's what you can expect when you install a tankless water heater:
Limitless supply of hot water since it comes directly from plumbing
Hot water on-demand with no energy wasted warming up a big tank
More lengthy life expectancy in comparison to traditional models
Extra space with the removal of the old water tank
Every one of these features is designed to provide homeowners with big savings. Water is not wasted resting in a big tank and no fuel is being spent to maintain a warm temperature, making these models eco-friendly. Keep in mind that during winter months the energy efficiency benefit could be lost. Heating incoming cold water instantly from approximately 40 degrees Fahrenheit to 120 degrees takes a lot of BTU's of gas energy.
Tankless Water Heater Replacement Service
Prior to upgrading from your traditional water heater or even replacing an existing tankless model, it's wise to inform yourself of the signs an appliance may be in decline. Here are some clues that may indicate whether or not you need tankless water heater replacement service:
Frequent repairs are required to keep the appliance operational
There are signs of physical damage to the device
Big drops in efficiency, which increase utility costs
As an appliance ages, it becomes more expensive to maintain. If you find the cost of regular service calls or rising utility charges are beginning to get out of hand, it may be wise to consider tankless water heater replacement. Call for a plumbing expert to inspect your device.
If you want to find out what your neighbors think about our services, check out our customer reviews page.