Some of the most dangerous things a homeowner can attempt to deal with themselves has to do with the gas leaks. Trying to diagnose any problems without the help of a professional can have serious consequences. Everybody in your household may be at risk of a fire or explosion. All it takes is one mistake.
Thankfully, the experts at S and J Plumbing are equipped with the right tools and training to conduct gas line leak detection service for homes in the Arlington Heights, IL area. We put your family's safety top of mind when it comes to locating and fixing any gas leaks.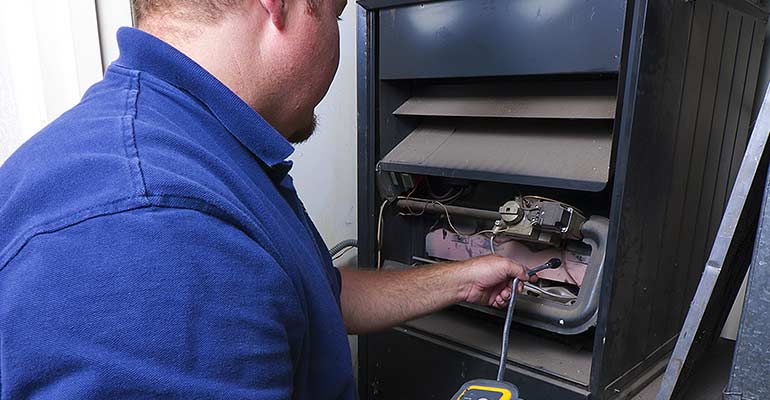 Save a bundle of cash on your next service call by taking a look at our coupons page today.
Do You Need Gas Line Leak Detection?
If you suspect any problem with your home's gas line, such as a leak, it's a dangerous situation that must be handled with care immediately. A gas leak can affect the health of anybody inside and put the building itself at risk. One silver lining, however, is they're easy to detect. Home gas leaks will often reveal themselves with a rotten odor, one that normally gets stronger the closer you are to the source of the leak. There's also often a hissing sound at the sight of the leak, which indicates gas is escaping the pipes.
Evacuate your home at once if you notice any of these signs of a gas leak. Get everybody to safety and contact emergency services to inform them of the situation. They will arrive at your address, enter your home and clear it of danger. When the responders give the all clear and it's safe to enter your home, your next call should be to a professional to conduct gas line leak detection service to figure out the cause and location of the leak while conducting repairs.
Please Don't Try to Do It Yourself
Homeowners should never try to attempt work on a gas line without the help of a specialist. By taking on the project yourself, you're also taking the lives of everybody under your roof into your own hands. This is not a situation in which you should raise the stakes. Professional assistance is only a phone call away. Get in contact with S and J Plumbing and we'll send a technician to safely conduct gas line leak detection service for you. Gain peace of mind knowing that the job is being performed by an experienced gas line contractor and will be done correctly so you can get back to enjoying your home once again.
Wondering what people in your area have to say about our services? Take a peek at our reviews page.