Finding a residential plumber you trust to be there when it counts shouldn't be like finding a needle in a haystack. When you need help, you can always count on S and J Plumbing in Lincolnshire. Our experts know their stuff and are standing by, ready to help when you need emergency repairs, no matter the time.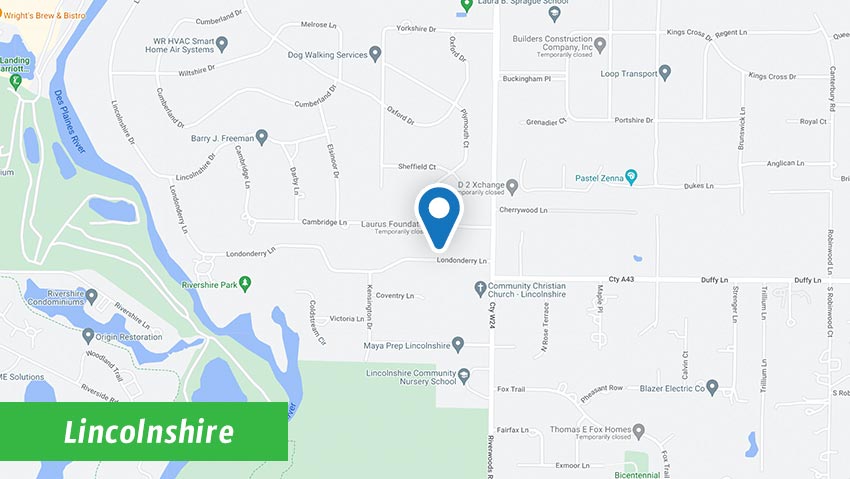 The next time you need a plumber, contact us at 847-890-1599.
Lincolnshire Emergency Plumbing Services
Your plumbing system is complex and plays a significant role in day-to-day living. So, when you experience a plumbing failure, it's crucial to fix it as soon as possible. But, how do you know which problem requires emergency repair? Here are the five most common situations where calling a 24 hour plumber is warranted.
Clogged Drains
You might not think a clogged drain requires immediate attention, but if left alone too long, you could end up with nasty water overflowing into the house or pressure buildup causing pipe bursts. If you have a drain clog and you've tried everything to fix it with no success, don't wait; call a plumber immediately for help.
Overflowing Toilet
An overflowing toilet isn't just inconvenient; it can introduce harmful pathogens, germs, and waste into your home and cause water damage. Call an emergency plumber to protect your family and property when a toilet backs up.
Sewage Backup
Like an overflowing toilet, the last thing you want in your house is sewage waste. You could easily end up clogging the main sewer line if you're prone to putting things down the drain, like baby wipes, hygiene products, food waste, and cooking grease.
Burst Pipe
When a pipe suffers a catastrophic failure, it can leak hundreds of gallons of water into your home quickly, causing thousands in water damage. Shutting off the water at the main valve will stop the flow, but it also leaves you without a water supply, which is why it's necessary to call for emergency repairs to fix the problem and restore service as soon as possible.
Call the pros at S and J Plumbing when you have a plumbing problem that's beyond your ability to fix.
When to Call for Water Heater Repair
Your water heater is a workhorse, working day after day to provide your family with on-demand hot water. However, constant usage means more frequent repairs. Here are a few signs if you're unsure when to call a plumber.
Inconsistent Water Temperature
Is your water sometimes scalding and sometimes lukewarm? Fluctuating water temperature could be a problem with the thermostat or a heating element. Call a plumber to diagnose the issue.
Discolored Water
Rusty or murky water coming from the hot tap typically means a problem in your water heater. If the water is rusty, it may be the tank is corroding. If it's murky, it could be sediment or bacteria.
Noisy Operation
Some people think that gurgling or popping noises coming from the water heater mean it's about to explode, but that's rarely the case. Typically, strange noises are caused by minerals built up in the tank. If the water heater isn't too old, flushing the tank may solve the problem. However, you're better off upgrading if it's past its prime.
Water Leaks
Finally, as water heaters age, the constant tank expansion caused by heating can weaken them, causing tiny cracks and leaks. Once a tank leaks, it's time to replace the water heater.
If your water heater exhibits these or any other strange behaviors, don't take chances; call the plumbing experts at S and J Plumbing.
Visit our coupons page for significant savings on your next installation or service call.
Our Residential Plumbing Services
At S and J Plumbing, we want to be the only residential plumber you'll ever need, so we offer a full range of services to solve whatever problem you have, including:
Water Heater Services
Burst Pipe Repair
Water Leak Detection
Gas Leak Detection
Drain Cleaning
Whole Home Repiping
Clogged Toilet Repair
24 Hour Emergency Service
Kitchen Plumbing
And more
Local Reviews
for Lincolnshire, IL
---
Andrey K.
Rodding a backed up sewer line at a customer's home in Lincolnshire.
Near

Kings Cross Dr,

Lincolnshire

,

IL

60069
Ryan F.
Installing a new 50 gallon Bradford White water heater at a customer's home in Lincolnshire.
Near

Wellington Ct,

Lincolnshire

,

IL

60069
Tim G.
Installing a new 75 gallon power vented Bradford White water heater at a customer's home in Lincolnshire.
Near

Rivershire Ct,

Lincolnshire

,

IL

60069
Tim G.
Repairing a Grohe shower cartridge at a customer's home in Lincolnshire.
Near

Rivershire Ct,

Lincolnshire

,

IL

60069
Kyle S.
Installing a new Liberty sump pump and a new battery back up system at a customer's home in Lincolnshire.
Near

Wellington Ct,

Lincolnshire

,

IL

60069