Bathrooms are a nice and quiet place for many home dwellers to feel comfortable and be themselves. The room itself should match the mood of the occupant themselves. Since we spend so much personal time in these spaces, it's important they remain clean, comfortable and functional for every person.
The specialists at S and J Plumbing are here to lend a hand to homeowners in the Arlington Heights, IL area with our bathroom remodeling services. Let our bathroom renovation contractors spruce up your daily bathroom routine with tasks such as faucet repairs and shower installations. We can help build a sanctuary you can enjoy for years to come while upgrading the value of your home.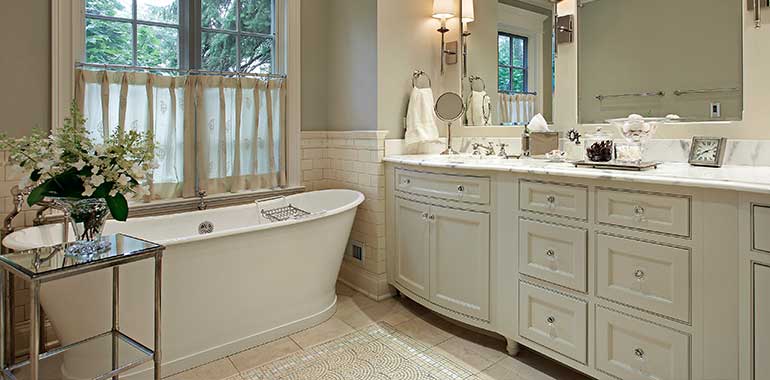 Find out how you can save money on your next plumbing service call by taking a peek at our coupons page.
Bathroom Remodeling Services
Bathroom remodeling contractors on our payroll are experienced in completing a wide range of projects to fit your needs and budget. We only care about improving your bathroom experience at home. Here's a sample of the services we provide:
Bathtubs and Showers
If you need to put in a new bathtub, shower enclosure or desire help installing a new shower head, we're up to the task. Our crew can safely and rapidly connect any new equipment to your bathroom plumbing system. Just sit back and take it easy while the professionals make sure everything is installed properly and works correctly.
Faucets and Fixtures
Any faucets connected to your sink or bathtub that's busted or leaking can affect the functionality of your bathroom and lead to problems with water consumption and even cause water damage. We can offer a solution with our bathroom sink repair and faucet repair services. There's no job we're above doing. It's our duty to make sure your upgraded bathroom works for you.
We Offer Superior Service
Here at S and J Plumbing, we're committed to delivering honest and professional service to each and every one of our customers. Each of our technicians are highly skilled and well-trained in their disciplines. We conduct only high-quality workmanship and first-class customer service.
We're also prepared to offer our help at any time. Call us any time, 24 hours a day, seven days a week, in case of emergencies. If trouble strikes your bathroom in the middle of the night, we'll be ready to jump into action.
Take a look at what people in your neighborhood have to say about our services by browsing our latest customer reviews.